Przedsiębiorstwo Alberts Sp. z o.o.,
ul. Leszczynska 4f,
64-113
Osieczna, woj. wielkopolskie, Poland
tel. +48
65 520-93-16
,
fax. +48 65 520-93-49,
email
Benches with profiles of cast iron.
Od wielu lat zajmujemy się produkcją rozmaitych wyrobów zaliczanych do małej architektury parkowej. Proponujemy m.in. ławki miejskie, które – jako ich producent – oferujemy w atrakcyjnych cenach. Jesteśmy przekonani, że w przygotowanym przez nas katalogu produktowym znajdziesz artykuły spełniające Twoje oczekiwania.
Żeliwne ławki ogrodowe – najwyższa jakość w dobrej cenie
Wśród dostępnych towarów prym wiodą żeliwne ławki parkowe, które wykonujemy przy użyciu najwyższej klasy materiałów, dzięki czemu są one wyjątkowo wytrzymałe. Zapoznaj się z naszym asortymentem, a w razie jakichkolwiek pytań – skontaktuj z nami. Serdecznie zapraszamy.
Our company has the exclusive right to distribute to most of the models of benches.
Benches on the profiles of ordinary steel and stainless
Jako jedna z największych firm zajmujących się produkcją i dystrybucją elementów zaliczanych do grupy małej architektury parkowej, oferujemy bogaty wybór ławek miejskich na profilach ze stali zwykłej i nierdzewnej.
Alberts – producent ławek i mebli parkowych zaprasza!
Proponowane przez nas ławki parkowe, wykonane zostały z wysokiej jakości materiałów drewnianych i stalowych. Są wytrzymałe, odporne na niekorzystne warunki atmosferyczne oraz pokryte antykorozyjną emalią proszkową. Zachęcamy do zapoznania się z dostępnymi modelami ławek miejskich stalowych, a także różną kolorystyką listew.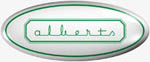 Przedsiębiorstwo Alberts Sp. z o.o., ul. Leszczyńska 4f, 64-113 Osieczna, woj. wielkopolskie, Polska, tel. +48 65 520-93-16, fax. +48 65 520-93-49